Why Book With Us?
No Booking Fees!!!
San Francisco Hotel Guides does NOT charge any booking fees or service charges for hotels booked through our website!
No Cancellation Fees
San Francisco Hotel Guides also does NOT charge any fees for cancellations!**
Low Nightly Rates
San Francisco Hotel Guides offers various promotional rates due to our direct relationship with many hotels in the Bay area.
Personal Customer Service
We pride ourselves on unmatched customer service. Contact us by phone or email.
Hotel Loyalty Programs
San Francisco Hotel Guides honors hotel loyalty programs from all chains.
**Disclaimer: San Francisco Hotel Guides does not charge cancellation fees, but some hotels do. Check your particular hotel's cancelation policy for details.
Hotels by Type:
Hotels By Location:
Extended Stay Hotels
Extended Stay hotels accommodate travelers who require a longer stay, usually anywhere from two weeks to several months. Extended stay rooms usually have additional amenities such as kitchenettes, dishes and cookware, and laundry services. Options for extended stay hotels in San Francisco are fairly limited, but we hope you'll find what you're looking for below.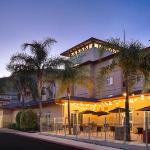 Guest Score: 9/10
2000 Shoreline Court | Brisbane, CA
from $151.00
Conveniently located just 8 km from San Francisco International Airport, this suite-style hotel offers stunning views of the San Francisco Bay as well...read more.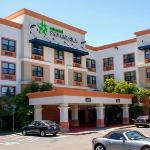 Guest Score: 5/10
3650 Mandela Pkwy | Emeryville, CA
from $80.00
This Extended Stay America - Oakland - Emeryville is located in Oakland and especially designed for longer stays, with all rooms featuring a fully equ...read more.